Saturday, 26 April 2014 - I remember the time when the traditional
cloth diapers consisted of a folded square or rectangle of linen cloth, cotton flannel, or stockinet, which was fastened with safety pins. It looked like the below.
Today, this type of diaper is referred to as a
flat
. The flat is still commonly used around the Philippines. It is one of the most economical and simplest diaper system offered. Most of the rural areas in the Philippines use this. My mom still has some of the peripherals scattered in our home. Dr Mom still swears that cloth is the way to go...something we both agree in!
In trying to protect and care for our environment for our future kids, I have been trying to eliminate disposable diapers in our home. My son wasn't on cloth diaper (CD) compared to this sister. Somehow we were not able to resolve the leaks with him no matter how thick of what type of pad I use for him so I was not successful with C but with S, I was able to make the switch and it has changed the way our home disposes our trash. I also love the cute designs these CDs offered! We had these CDs match S' outfits most of the time whenever she goes out and even at home, she out just have a shirt on and exposed CD bum. Too cute for words and I love how she would wiggle her bummy with these cute designs!
Supporting and keep up with this advocacy of promoting CD use - I joined 88 CD moms in making 2014 Cloth Diaper history at the Blue Leaf Events Hall, Taguig City. It was an uber lovely and great event! See the photos below!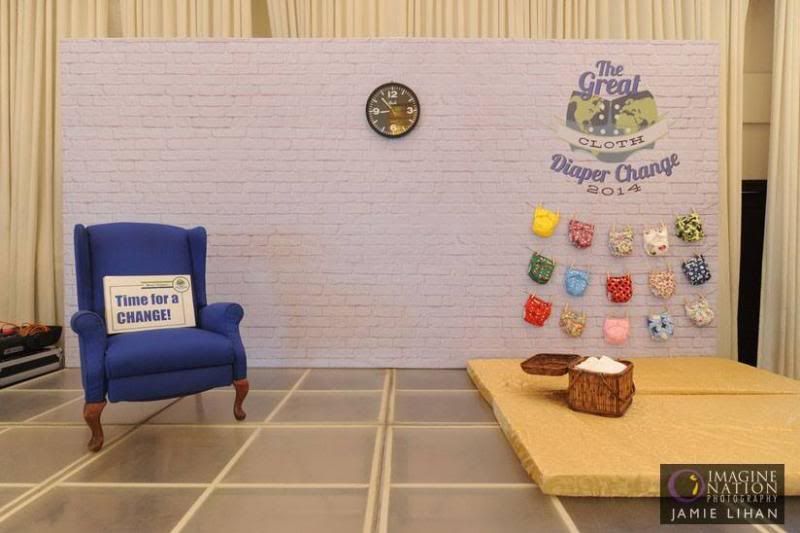 Photobooth set-ups
See the wonderful giveaways for this event! A lot of care, thought and cutness!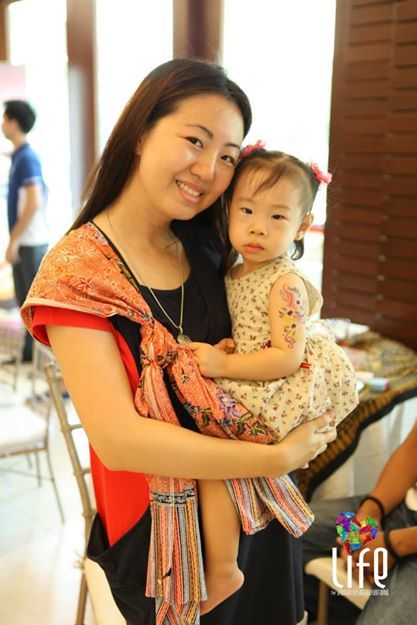 Babywearing S at the event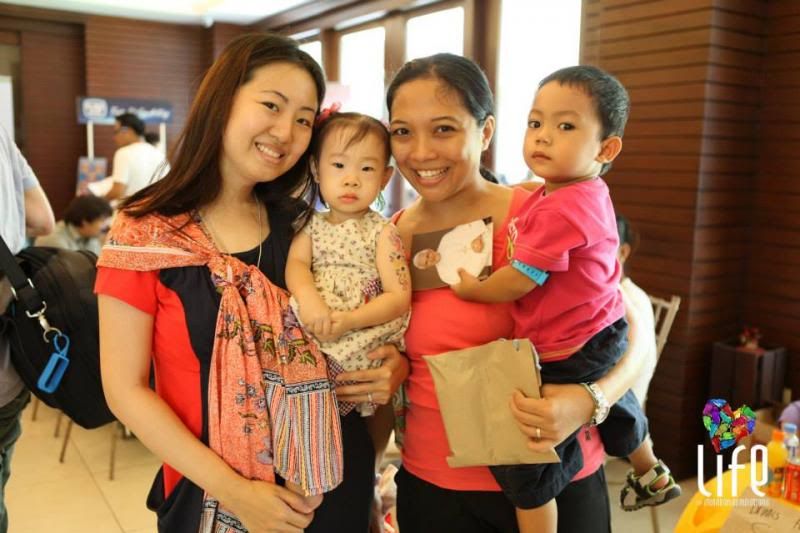 With CD, Babywearing, Breastfeeding, Alternative Birth, Attachment Parenting mommy advocate, Pat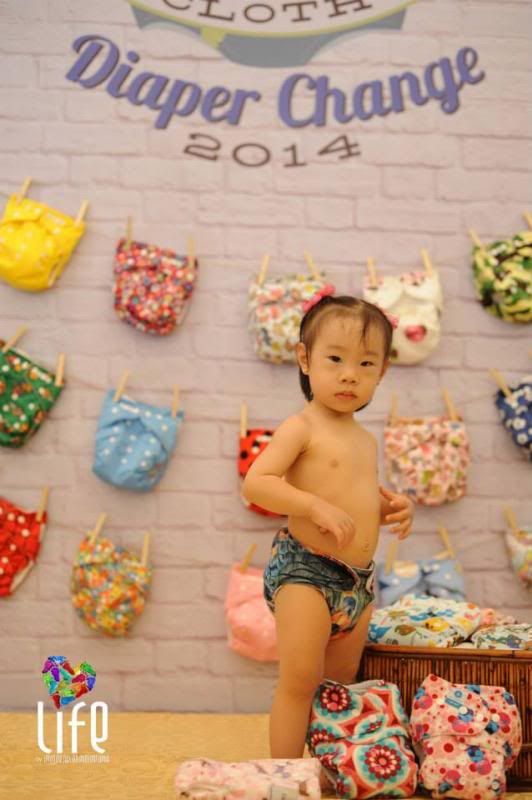 Diaper Set-up #1 - diaper hamper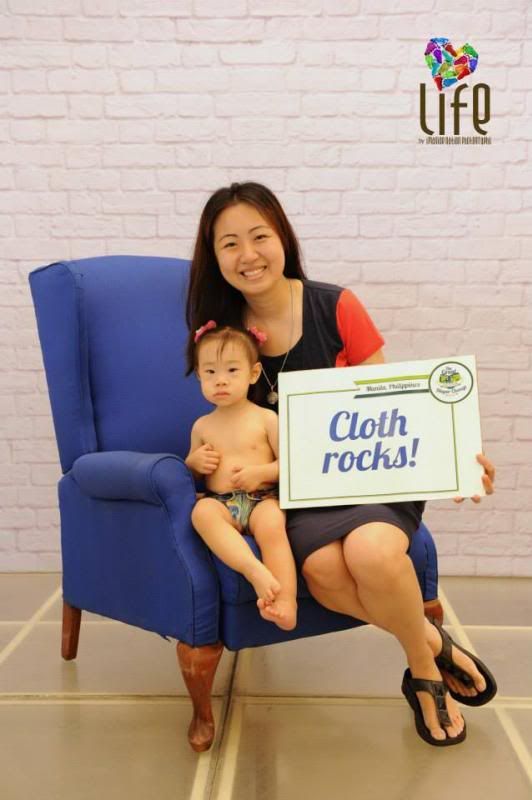 Photobooth set-up #2 - Couch
Diaper raise requirement
N@Wie Mommies Kendz, Charm, Pat and I at the back of the section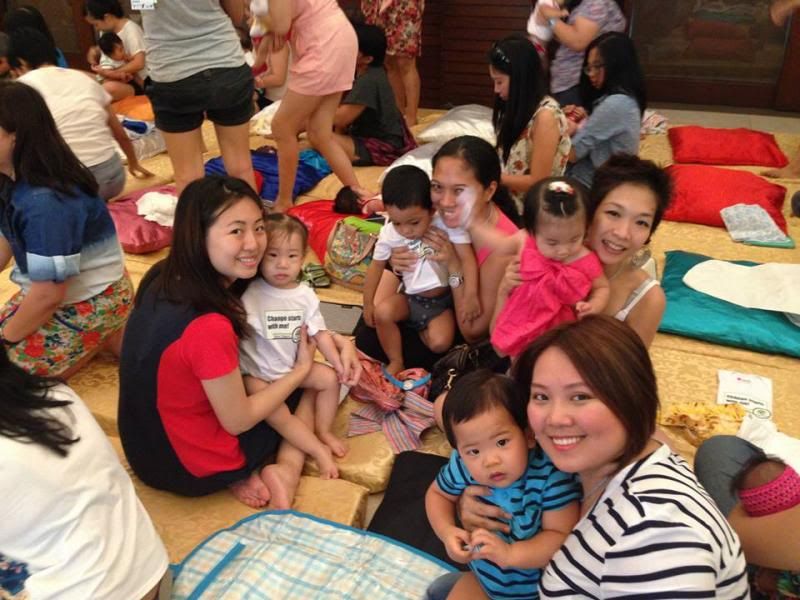 N@Wie Mommies with our babies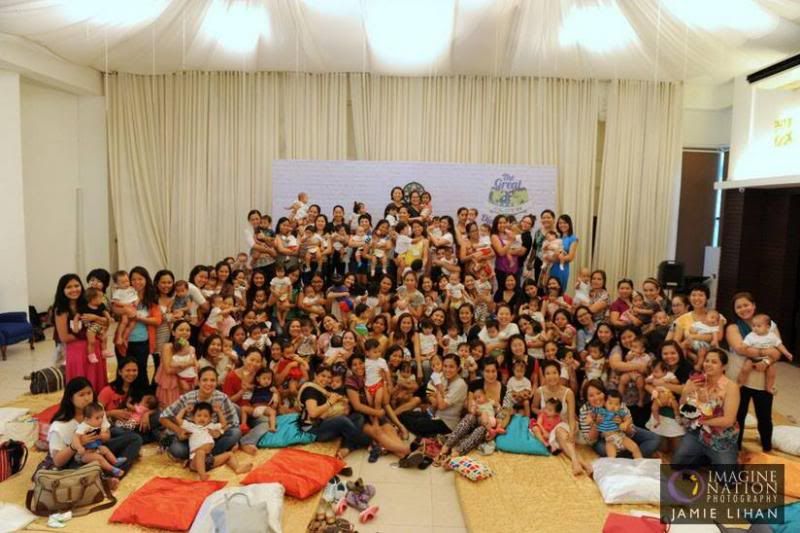 Group shot #1 of all the mommy participants
Group Shot #2 of all the mommy participants
The event got pretty wonderful exposure on the news, Balitanhali at GMA7.
This event was created and sponsored by Tickled Mom's Abie Co-Floreza & Clarice Anne Aviñante, Next9's Jen Chua Caedo Tan & MamaBabyLove's Jenny Ong, with support of Newlyweds@Word (N@W) and Modern Cloth Nappy Philippines (MCNP). Congratulations for a successful meet and hope that we do get to be part of the Guinness Record this year!

This event was made even more a success because of:- Eugene & Michelle Gamboa-Sandejas and Eia Uyboco Dy of The Blue Leaf Events Pavilion; Jet Versoza of Josiah's Catering Inc.; Ronald Correos of 4th Wall; John Mateos Ong, Mot Generoso, Jamie Lihan, Beatrice Barretto, Jasper & Robert of Imagine Nation Photography; Therese & Noel Aranzaso of Pose And Print Photo Booth.
***Based on The Great Cloth Diaper 2014 Facebook Page
Currently,
Guinness qualification still pending review! but GCDCPH 2014 is proud to share that there is only 1 international location that made it to the Top 10!! --- The Philippines!!! Wheeee!! Congratulations everyone!

6 events had more than 100 participants each:
Littleton, CO, USA - 187
Tulsa, OK USA - 171
Oklahoma City, OK, USA - 154
Austin, TX, USA - 134
San Diego, CA, USA - 120
Schnecksville, Pa, USA - 101

Rounding out the top 10:
Edina, MN, USA - 98
West Hartford, CT USA - 93
Mounds View, MN, USA - 89
Taguig City, Metro Manila, Philippines - 88