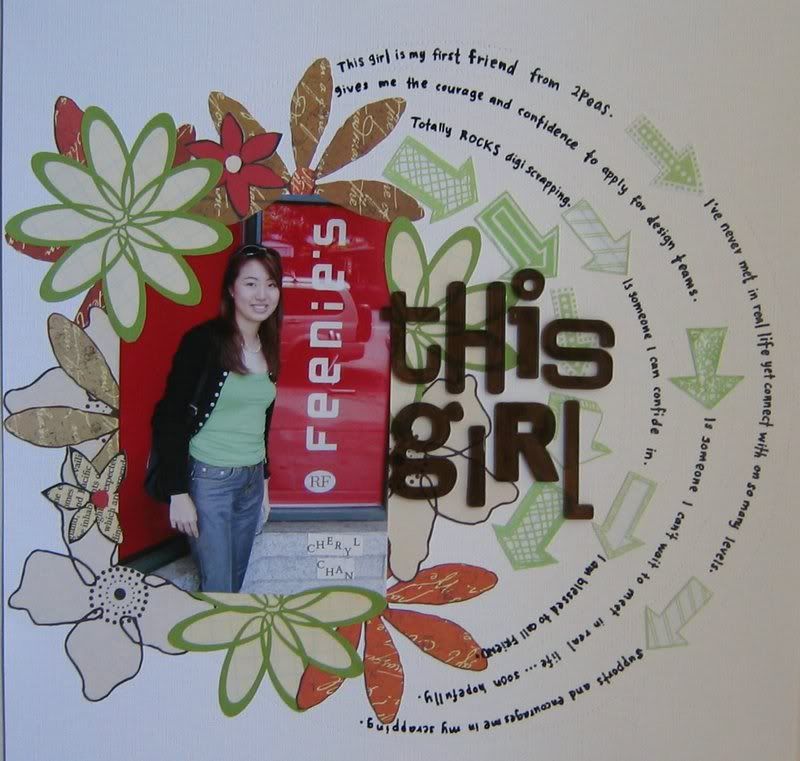 Check this out! My gal pal, online-scrapbook friend, Michelle, did a LO of me!
This is a real honor. I've never been scrapped by someone else. :) She did it late last year but was not able to show me or post this up since she used this for a contest entry.
I love the flower that framed the photo and definitely the journaling technique of being circular. Very very cool!
Definitely a nice surprise when I opened my email from her around CNY. :)
BIG SHOUT OUT
&
"RAISE THE ROOF"
TO
M
i
z
z
M
!
Got back from Vday and CNY vacation. It was a great vacation and definitely interesting. Hardly rested since it was constant supplier meetings, contracts signing, wedding idea scouting, dates with Ed, dinner with friends, late night off-site work on the computer (all I can say...thank goodness for the Internet) and the highlight every late afternoon - taking my nephew to his daily park adventures & meeting his cute friends!
Work is pretty loaded even if I got to work off-site but I guess that's just it...work will never stop, even if everyone in China/Asia is out for CNY. There's always another person in other parts of who are working their butt-off for "the next big thing".
Just got word too that Deborah Vessels will be published in the next issue of Scrapbook Trends Magazine so better watch it out! I'm so proud to be discovered by her and to be part of her and Teri's Creative Team. :)
You can check out Deb's other digi kits at
http://www.digizinesdigitalden.com
BIG
SHOUT
OUT
&
"
RAISE
THE
ROOF
"
TO
DEB
VESSELS
!