Last week's surely one for the books ~ Toxic Weekend all throughout!
I'm sure Colin can vouch for this since he tried waiting for me for two nights now...he was not successful and was forced to sleep on his own without me beside him. :(
I've definitely been feeling the guilt-trip with him and breastfeeding responsibilities. With the added stress at work, milk supply has been low. Good thing that I'm pretty much open for whatever so basically Colin's been a mix eater.

E's birthday was last Friday. He and my MIL shared a joint birthday lunch dimsum. Pictures to surely follow since it also gave me material to use for scrapbooking.

Want to share with you the advantages of subscribing to a scrapbook designer's newsletter. You get freebees like the one you see below by Mari Koegelenberg ~ a freebee kit exclusive to her subscription newsletter called Just So You Know! Isn't it an absolute cutie of a kit!?!
It's exclusive, versatile, complete and free!!!! What more can one really ask for!
Read more about it here.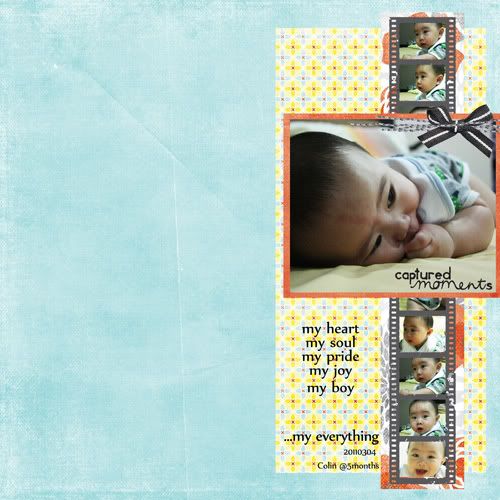 Credits: Mari Koegelenberg's Just So You Know (exclusive subscriber newsletter kit), font - Nyala, Photos by Winnie Wong