Hi everyone! Just got to hear about this recently from a fellow blogger that might interest some of my mommy readers like me. :)


**************************



August is shaping up to be a giveaway month not just for manilamommy.com but for all the manila family blogs-
ManilaReviews
,
ManilaFitness
,
ManilaShopaholic
and
ManilaBlogs
! Please try and visit all of the sites when you have time, you never know when you'd be a lucky winner!

Anyway, as Neva of Manilamommy.com is giving away Diaper Bags for some lucky follower of her's. Instructions are indicated below.
Let me kick off the giveaway month by giving away a Froot Loops diaper and travel bag and a LifeSavers bag from our very own ManilaBaby Shop! The promo period will start on Aug. 9, 2010 up to Aug. 27, 2010.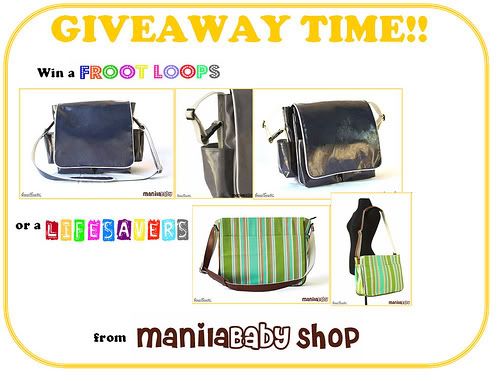 The LifeSavers is a super light weight, canvas bag which we use to bring DW's stuff for overnight trips. This bag has also been used as a laptop bag and can also be used as a school bag for school-aged kids!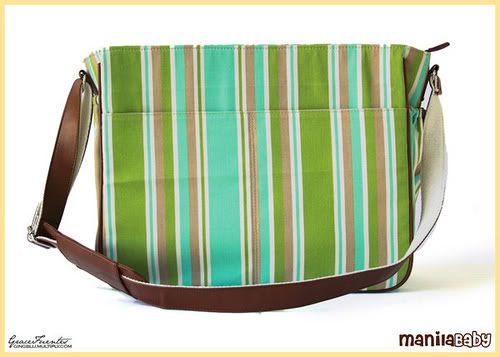 The Froot Loops is diaper bag that converts into a stroller bag so that you can have easy access to your baby's stuff anytime, anywhere!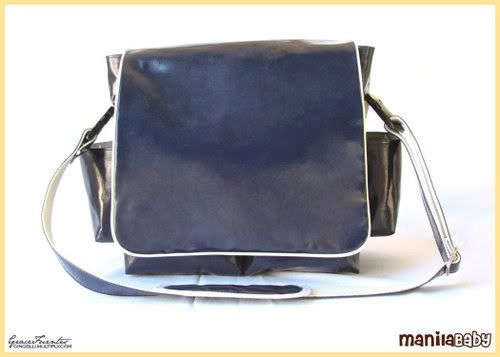 Both bags have waterproof interiors with lots of pockets. You also get a free extra large changing pad which provides maximum coverage for those public changing stations and a plastic pouch!

To see more of the bags please go to
ManilaBaby Shop
Winning is easy! You only need to do three things to gain three raffle entries in the draw:
1) Leave a comment at this blog = 1 raffle entry
2) Leave a comment at the manilababyshop site (add us as a contact too!) = 1 raffle entry
3) Join the ManilaBaby Shop fanpage
HERE
= 1 raffle entry.
When you leave a comment at this post, please let me know that you've done all three. If you're already an existing member of the ManilaBaby Shop fanpage or if you've already added the ManilaBaby shop as a multiply contact, let me know too so that I can give you your corresponding raffle entries.


Weekly tallies will be posted in this blog so that you could keep track of your raffle entries!

TO GET MORE RAFFLE ENTRIES AND GET MORE CHANCES OF WINNING:
4) Tweet about the giveaway in this format: I want to win a diaper bag from @manilababyshop! (http://manilamommy.com/2010/08/win-manilababy-bag/) = 1 entry
5) Re-post about thus contest in your blog = 5 raffle entries (feel free to use the images in this post)

6) Update your FB status in this format: I want to win a Diaper Bag from @manilababyshop! (http://manilamommy.com/2010/08/win-manilababy-bag/) Please don't forget to tag us in your status update so that we can keep track too = 1 entry

TO GET EVEN MORE RAFFLE ENTRIES:
Come back to this space weekly as I'll be giving you new ways to get more raffle entries for the draw that are worth 2 raffle entries each!!
If you do all the items here, you can get up to 16 raffle entries for the giveaway!

IMPORTANT REMINDER: You only need to do 1, 2, and 3 to qualify for the contest. Items 4 onwards are optional but they would get you more entries for the raffle!

And that's all folks!! On behalf of the ManilaBaby Shop team, I'd like to wish all of you the best of luck and that I hope you have fun with the contest!