Do's and Don't's of Babywearing
In any baby carrier you use, please make sure to ensure the below guidelines of care. This is based on the Consumer Product Safety Commission's Recommendation in the US
Baby's face should not be covered.
Baby should not be too low in the sling; kissable level.
Baby's chin should not touch his chest. Ensure air passages is clear.
Baby's face should not be pressed into wearer. NO to the Cradle Position (please see photo below.)
Baby should face up.
***
WARNING
: Facing out position is not recommended because the baby cannot be in a natural curled position with the bum lower than the knees. Because of the baby being further away from the carrier this changes the gravity for the carrier and you will find it gets uncomfortable for you. Some babies get over stimulated from being carried facing out. If your baby wants to see more I recommend you to do a hip carry, baby can look forward and backward and can "hide" if it gets over stimulated.***
MORE INFORMATION AND NOTES TO REMEMBER:
Babywearing is not appropriate in certain activities. Use common sense. If an activity may present a hazard to your baby, do not do it while babywearing.
Do not use your baby carrier during activities such as cooking when there is a chance the baby may reach for or be exposed to dangerous items such as knives, hot beverages, and stoves.
Do not use your baby carrier during athletic activities such as jogging, skiing, cycling which could be hazardous to your baby. Additionally, you may strain your own back or lose balance, resulting in serious injury to you or the baby. Cyclic activities may injure your child.
Flammability requires that you use extreme caution around heat sources in any carrier.
Your baby carrier may not be specifically designed for use in Water.
When you Travel the safest place for your baby is usually in an approved car seat, not your baby carrier.
Pay attention to your child while Breastfeeding. Ensure baby's air passage is clear.
Also, if you are breastfeeding, do not allow your baby carrier to dig into your breast tissue because this may lead to Mastitis.
To avoid muscle soreness, Build Your Strength Gradually.
Remember that when you are baby wearing, your center of gravity is higher and it is easier to lose your balance.
Switching shoulders and proper lifting techniques will help you avoid injuries to Your Back.
If your baby falls asleep in your baby carrier, please be sure that your baby is breathing normally.
Do not put extra items in your carrier when babywearing. If your carrier has a pocket, items which could injure or cause discomfort to your baby should not be placed in it.
All of these recommendations should be kept in mind
within the context of your knowledge of your baby
. For example, leaving fabric over baby's face while you're shopping in a busy store and baby is sleeping is probably not a safe choice for you.There is little movement on her part and your attention is divided.Walking through the park breastfeeding with the fabric over baby as a cover is a safe choice for me. I can feel him sucking.I can feel every breath both from his nose to my breast and the expansion of his chest/abdomen against mine. I peek in constantly and have a little opening or "window" to gaze at each other and for ventilation. Wearing baby in a Baby K'tan with her cheek against your chest over the top of the fabric while the rest of her is wrapped in a safe cocoon against your body is definitely a safe choice- safer than a crib and safer than a stroller.
The below is a safety diagram for Do's and Don't's regarding a Ring Sling/Pouch/Suppori pouch but the concept is essentially the same as indicated above.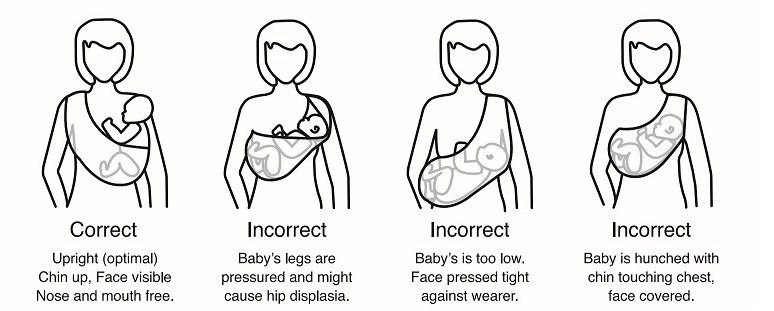 If all-ends else fail, ensure that the baby's bum and knees are above your waits and that air passage is clear for the baby.