I'm all excited to share my experiences for International Babywearing Month! It's a very addicting habit that I've grown to love and since S really appreciate this and I was able to convince my hubby to also start using ours more often than just carrying S on his own.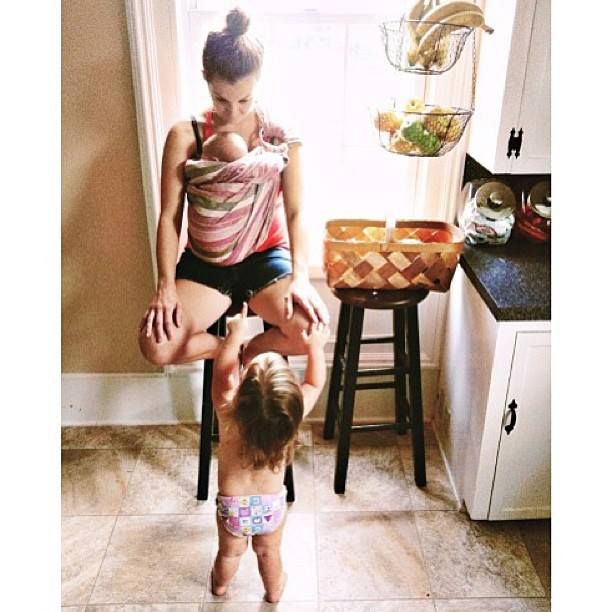 What is the right baby carrier for you?
Cloth baby carriers come in an endless array of fabrics and colors, from basic solid cottons to exquisitely embellished silks. Whether you're looking for something to use every day, a carrier for a special occasion, or slings to match every outfit, the choices are yours to make, whatever your personal style. Your baby carrier (or carriers) can be both functional and attractive.The array of baby carriers available today can be a bit overwhelming, but don't let that keep you from finding a carrier (or a few) that work for you! If there's a Babywearing International chapter or other nonprofit, free-to-attend babywearing group near you, you can get free babywearing help and can try several types of carriers, which will give you a better idea of what to buy or make. Another source of help is online communities like the forums at TheBabywearer.com
There is also a helpful brochure at School of Babywearing.com that is very useful
here
.
What are the types of carriers out there?
All of the types of carriers below can be used to carry babies and young children on the wearer's front, hip or back, although some are better for one or the other carry. Most of these carriers can be used from birth until parent or child chooses to stop carrying. This can sometimes be age 4 or beyond!
Whichever carrier you choose, look for a carrier that holds your child in a position you would naturally carry them in arms in front, on your hip, or for a piggyback ride.
The baby should be in a "sitting position" with the fabric/support on the back knee portion and goes around the baby's bum area upward.
Most carrier manufacturers list weight limits for their carriers, but there is often a significant discrepancy between the published weight limit and what a particular user finds comfortable. Also, technique makes a difference. Buckling or tying on your hips feels very different from buckling or tying around your true waist. Help from experienced babywearers can save most beginning babywearers both time and money as they review their babywearing options.
These are some of the ones I have in my stash/collection...
Ring Sling:

This carrier is a shawl with a pair of rings attached to one end, i

n its simplest and most elegant form,

. The ring replaces the knot or tuck-and-twist method of fastening used with traditional shawl carriers such as Mexican rebozos or Indonesian selendangs.

Some ring slings have padding where the sling rests on the caregiver's shoulder or along the edges of the sling, and some depart further from traditional shawl carriers by having the fabric at the end of the sling folded and stitched into a rope-like tail.

Recommended Age: newborn and up

Carries: tummy to tummy and hip

Advantages:

adjustable to fit anyone with it's adjustable straps

Easy to get baby high and tight

Adjustable for a perfect fit every time

Can be shared between different-sized wearers

Comfortable, discreet breastfeeding (video demo here)

Best for snuggle/tummy to tummy kid.

Long tail can have a pocket

Six positions including back

With practice, quick to put on

Best for snuggle/tummy to tummy hold




Disadvantages:

Longer learning curve

Some dislike the tail, especially dads

Takes up more space in diaper bag, especially padded ones

Some find the rings get in the way of mom and baby
POUCH

:



This carrier is a tube of fabric with a curved seam, a pouch sling is a sleek carrier option. It is sized to the adult wearer, and what it lacks in adjust-ability, makes up for in convenience. Few carriers take up less space in a diaper bag or are as quick to put on and take off as a pouch.

Recommended Age: not recommended for newborns, best when baby can hold his/her head up on his/her own; roughly 4-5 months and up

Carries: tummy to tummy, hip

Advantages:

Simple, easy to pop it on and go

Shorter learning curve / to properly master this carrier

Streamlined look

Lightweight and packable

Dad-friendly

Five positions including breastfeeding

No rings allow a more comfortable back carry

Can be less expensive

Disadvantages:

Less adjust-ability

Can be challenging to fit initially

Cannot be shared between different-sized wearers (fitted only)

Fewer positions

Less discreet breastfeeding

Less airflow/breathable - at least with regards to my own pouch's fabric is a bit thick and thus me and my baby sweat easily because this. Not a nice feeling when you are trying to enjoy the bonding moments
Stretchy Carriers (SAYA or K'TAN):

This carrier is a wrap-type baby carrier that is made up of two pouches uniquely linked together to form one unit. It is a hybrid sling that merges the benefits of all the major carriers

Recommended Age: newborn until toddler age without changing sizes.

Carries: newborn, tummy (hug), front (adventure), hip (explore)

Advantage:

provides the convenience and nursing discretion of a ring sling: doubles as a discreet nursing cover and allows you to breastfeed on demand

ease of use and deep pockets of a pouch sling

comfort and dual shoulder support of a wrap or SPOC (simple piece of cloth)
* carries your baby higher on your chest unlike other baby carriers. This is called the "kiss height" — you will just need to simply tilt your head forward to kiss the baby
* feels secure when worn properly. It literally feels like a hug. The weight is distributed evenly on shoulders so you feel no strain at all. Pediatricians and expert caregivers say that its gentle, soft structure make it perfect for newborns, even preemies!

has no rings, buttons, snaps, sticky velcros or other attachment tools to work with

positions are versatile and can be modified to your preference and needs

Disadvantages:

requires to be fitted to the wearer - size is not adjustable to other wearers

the stretchy wrap carriers tend to feel too weighed down and saggy beyond about 15 pounds for toddlers

MEITAI:


This carrier is a

modern take on a traditional Chinese baby carrier with a body panel, shoulder straps, and waist straps still carries the traditional name, "mei tai" (pronounced"may tie"). The new-generation mei tais typically have either wide, padded shoulder straps, or extra-wide, wrap-style, unpadded straps for the wearer's comfort. They also offer a variety of features such as headrests or sleeping hoods for the baby, pockets for diapers or other essentials, and fabric choices that range from strictly utilitarian to truly luxurious.I.e. Hop-Tye, Ruxpin (above)

Recommended Age: can be used for newborn and upward but is best would be when your baby can hold his/her head up on his/her own (head control); roughly 4-5 months and up

Carries: front, hip and back

Advantages:

adjust-ability - can be adjusted for newborns provided that the baby is nestled down properly in the carrier and the padded edge of the carrier comes up enough to support a small baby's neck and head

back-support provided

no plastic-y anywhere on the carrier to potentially dig into the wearer or the baby

possible to wear baby facing away from your body though not a very healthy position for baby's developing hips and spine. Babies who are old enough to want to check out what is going on around them are happy in a high back carry, which allows them to see the world while still being properly positioned. This is one of the many options of this carrier

Disadvantages:

practice is needed since the straps take getting used to be tied on your own so I normally ask assistance from my hubby or maid to ensure S is secure

could be a bit hot for the baby so I normally use this when we go to the mall and for longer period of walks

SUPPORTI:

This carrier is another variation of the pouch that is made up of permeable triple stitched, knitted yarn that offers both stretch and strength and without a ring. It does not retain heat and very useful during hot summer months. The high tenancy yarn is a special type of polyester. This specific yarn is so durable, that it is also used in motor vehicle parts.

Recommended Age: not recommended for newborns, best when baby can sit-up and hold his/her head up on his/her own; roughly 6 months old (7kg/15lbs) to 24 months (15kg/33lbs)

Carries: tummy, hip

Advantages:

lightweight, compact and convenient: can be held in the palm of your hand or simply in your pocket. Machine washable

comfort support : no more stiff shoulders or other weight induced stress caused by most baby carriers, because baby's weight is not concentrated on the muscle between your neck and shoulder, but on your shoulder bone

balanced support: babies weight rests on hip and strong deltoid muscle

sturdy, stretch: knit mesh structure snugs the shoulder keeping it in place. Conventional carriers and slings rests on the delicate trapezius muscles which is not as strong and there are a lot of delicate blood vessels. Wearers may suffer from sore back and stuff neck.

breathable air-permeable fabric: triple thread, triple woven mesh structure allows for air flow. Other carriers lack air-permeability and can cause discomfort for both wearer and baby and may cause heat rash. Perfect for warm/hot/humid climate areas.

Disadvantages:

can be frayed through use; no watch or jewelry is advised when using this carrier

the amount of net needed to pull up over my baby's back that would allow security compromised the netting under my baby's bottom

didn't allow for total hand-freedom as I constantly had to have my arm around S to support/protect her; it's more for one-hand freedom while the other hand supports

cannot be for long use since lesser back support compared to the other carriers I have; I moved around more when I use this since the movement would limit the gravity to my back in one

the strap can dig into baby/toddler's legs as they grow bigger; not to be used for older rowdier babies/toddlers since lesser support on them and you
Combi Magical Compact carrier

:



This is a structured carrier that provides head support for a newborn but also have the added flexibility of being able to accommodate a toddler in a rear carrying position.

Recommended Age:

Newborn baby (3.4kgs) right through to a toddler (14.9kgs)

Carries: Cradling (newborn 3.4kgs to 7.4kgs); Forward-facing (7.4 kgs to 11.3 kgs); Rearward-facing (7.4kgs to 11.3 kgs); Back Carry (11.3 kgs to 14.9kgs)

Advantages:

it offers the optimum head and back support and comfort to a newborn baby

may be used as a breastfeeding aid

is ideal for hot climates as it provides maximum airflow

allows you to enjoy a direct line of sight to the baby so you can enjoy the baby's first smiles and expressions

use this longer day-use like traveling in airports, hiking, etc since it will have better and longer back support use with less adjusting/repositioning, if fitted correctly

roomier area inside the carrier would allow fussy/"figity" babies some room to move around and airflow

Disadvantages:

since it is a structured carrier, not all babies can conform perfectly to the carrier. It may not perfectly hug the baby for exact support and thus, center of gravity of you and your baby is in front that will not be good for your back

upon placing the baby, the hooks and how to effectively tighten can take getting used to
There are other brands/variations to the above and here are other babywearing options for you also.
Woven/wraparound Slings

I do not have this but have seen it around town.

It is a simple long strip of cloth/scarf that makes into an elegant and comfortable baby sling.

They

can be short, for quick one-shoulder carries, or longer, to distribute the baby's weight evenly over two shoulders and the wearer's torso and hips. They come in a variety of fabrics like natural fabrics such as cotton, linen, hemp, wool, and silk that are more breathable to the more appropriate texture than synthetics. Some wraparound slings are specially woven to have exceptional performance as baby carriers, offering strength, breathe-ability, just the right amount of diagonal stretch, and the right texture for holding the baby securely; these highly prized textiles are sometimes known as "German-Style Wovens" because this type of sling was developed in Germany.
They come in different sizes, from 2.20m – 5.30m long and between 60cm and 75cm wide.

What size you need depends on the carries you want to do and on the size of the carrier.

Recommended Age: newborn and up

Carries: front, back, side, one and two shoulder holds

Advantages:

Versatile and can do many different carries with just one cloth

Comfortable to wear, even with a heavy baby, as the baby's weight can be spread widely over both shoulders and the waist/hips.

Very secure

Can be used for newborns right through to older toddlers

Disadvantages:

Practice and learning is needed to tie the cloth

Can take longer to learn to use than most other carriers (mainly for back carries)

May feel some constraints by the amount of fabric; can also be hot, depending on the fabric

Can be tricky to avoid dragging the fabric on the ground, which makes wrapping problematic on wet or muddy surfaces

Soft Structured Carriers (SSC) or Buckle Carriers

These carriers

are basically modern MaiTai`s.

They are adjustable and one size fits all. carrier consists of a body panel and shoulder and waist straps, soft structured carriers replace knots with buckles and add a thickly padded waistband and shoulder straps.

Some of the brands come with a newborn insert. The result is a different weight distribution and overall different look and feel from a MeiTai, putting this style of carrier into a category of its own. Soft structured carriers offer the convenience of buckles yet are vastly different from framed backpacks in that they hold the baby securely against the wearer's body. (i.e. Ergo, Manduca) Carrier comparisons can be seen here.

Recommended Age:

Babies approximately 68cm long

and up

Carries: tummy, back, hip-carrying

Advantages:

Suitable from birth through toddler-hood and provide the benefits of body-to-body contact for the baby (although some require or include a special insert for newborns)

Some offer a shade-hood for shielding your baby from the rain and sun or anything that might cause harm

Most "daddy friendly" carrier

Easier to back carry in since you don't have to tie anything
***NOTE SSCs can not (in general) be used for high back carries. This means baby will sit lower on your back and may not be able to see over your shoulder. Because of this, babies who can not yet sit on their own should not be worn in a back carry in an SSC in order to make sure they are not slumping and compromising their airway

Disadvantages:

Buttons/buckles could be in places that are harder to reach or takes a bit more effort to unclasp

No forward facing option (not advisable anyways for infants) but for older kids, this is a drawback

Trickier to fit both wearer and baby and may not fit as wide a size range of both wearer and child

Good brand (good quality) carrier can be quite expensive

Podegi or Podaegi

This Korean baby carrier is a panel of fabric with two straps, instead of four like a MeiTai. Another name/term of it is called Pods. It's more narrow blanket wrapped around the baby compared to more traditional wide blanket counterparts. See more here. It is not a very common carrier to find but MeiTai sellers might be able to customize one for you if you are interested to purchase this type or you can make one of your own here /here or at the Korean Baby. Also similar is the chunei.
As I researched, I found a lot of similar carriers of this type from all over the world though it's in French, I'm sure we can appreciate the wonderful photos of this carrier here.

Recommended: 4month onwards

Carries: tummy, back

Advantage:

One size fits all

Hands-free

Comfortable and warm for the baby (for cold climates, this is a plus)

Easy to wash

Can serve as a blanket

Disadvantage:

Practice is required since it could be harder to tie properly and snugly

Very warm for both the wearer and the baby (for hotter climates, this is a negative)
Frequently asked baby carrier recommendations from friends:-
Like breastfeeding, babywearing takes some work at the beginning to get the hang of it.
If I had a nickel for every time I was stopped while wearing my baby out in the world and told, "Wow, that looks amazing.
I wish I could have that.
I was given a Combi Magical Compact Carrier but it hurt my back with it's center of gravity for me in the middle of my baby and me. I had to try many styles, types, and brands before I found the perfect carriers for me and my babies.
And it took practice to get the hang of using each one.
But once you make it over the hump, there is bliss on the other side.
Don't be intimidated and don't quit!
Get recommendations from other like-minded parents.
This is important- other
like-minded
parents.
You may have a lot of friends who you like and have a lot of history with who occasionally use ...i.e. Baby Bjorn and tell you to get one but look for role models around you.
If you see a mom loading groceries in her cart while reading a list with her older son and as you get closer notice she is even breastfeeding too- ask her about her sling!
I am frequently asked about my carriers. I take it as a compliment each and every time.
Go shopping!
Every store that sells slings has models to try on.
Stores like the
Mamaway
,
Tickled Moms
,
Mama.Baby.Love
and
Rustan
's have people there to give you all the help you need.
My favorite carriers are Ring Sling and
Baby K'tan
for newborns and MeiTai as my son grew heavier and needed more support.
There are many other types (ring sling, structured carrier, moby wrap, etc.) and brands.
And for each type of carrier there are numerous position options for baby.
Now, before you run out and get a carrier, I should also put a warning note based on my experience since I have already two kids to compare. Kindly heed this to mind. For me, given the above benefits, it's no wonder there's a big trend in babywearing these days; but do take note, not all babies/kids like to be babyworn. I knew that my son didn't like being babyworn. He would rather be carried to sleep then left him be when he is already in deep sleep. I remember he would breastfeed on me then after he is done, even if he is already asleep, he would get up and move to the end of our bed to sleep in his own spot. I counted that as he didn't want to be hot and wanted his own space. This is the total opposite with my daughter who would rather sweat in bullets with me being breastfeed or carried or worn than be left alone in our bed to rest better.