by
Little Steps Asia
Aug 28, 2014
A good bookstore is a destination for the imagination! From storytelling magic to the best deals on used books for kids, Little Steps has put together the top recommendations for exploring kid-friendly bookstores in the city. Pick up your kiddo's next bedtime story at one of these top picks and enjoy!
ESLITE BOOKSTORE
A big box bookstore from Taiwan, Eslite's stunning space in Hysan Place isn't just a retail space but a
megastore with a cafe and restaurant
. There are books on virtually every subject, and there's a good selection of
English books for kids
, too. If your wee ones need to stock up on school supplies, make a beeline to their stationary department for cutesy pens and notepads, and anything else they may need.
Eslite, 8/F-10/F, Hysan Place, 500 Hennessy Rd, Causeway Bay, Hong Kong, +852 3419 6789
FLOW BOOKSHOP
When you teach your kids the "3Rs", make sure you set an example on r
educe, reuse, recycle
by bringing their unloved books, DVDs, CDs and games to Flow Bookshop. The store has a special
kid's section
- two, giant, floor-to-ceiling shelves stocked with everything that suitable for kids under 12. Let them run wild, while you sort through the latest arrivals.
Flow Bookshop, 1A Wing On Bldg, 38 Hollywood Rd, Central, Hong Kong, +852 2964 9483
POLLUX BOOKS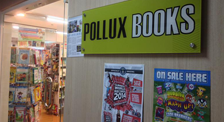 Take the whole gang over to Ap Lei Chau and spend a few hours sorting through the vast collection at Pollux Books. Unlike other big box stores, here, they focus on your kids first with wall-to-wall shelves stocked full of
picture books, educational booklets and audio books
. There's plenty
fun reads
that your little ones will love and cherish for years to come, the difficulty lies in choosing!
Pollux Books, Rm 2101, 21/F, Horizon Plaza, 2 Lee Wing St, Ap Lei Chau, Hong Kong, +852 2873 6962
LEISURE BOOKSHOP
There's lots and lots to browse through at this Saikung secondhand bookshop, and if you feel at a loss for choosing, take a break and hangout with the store's pet calico cat. They have a vast collection of youth fiction, as well as a good selection of illustrated books for kids. The best part is, you never really know what you're going to get because new donations arrive daily. It's also a good place to bring your unwanted books or simply add to your library.
Leisure Bookshop, 32A, G/F, Po Tung Rd, Saikung, Hong Kong, +852 2791 9629
BOOK and CO.
A relaxing little enclave for book lovers of all sorts, Book and Co is conveniently located in the Mid-Levels and is chock-a-block stuffed with
books for every age
. There's plenty of books for adults, teens and 'tweens and a limited selection for your mini bookworms. Plus, there's a
cute and cosy cafe
to tuck into cake with a cuppa tea for a much needed break from all that shopping!
Book & Co., 10 Park Rd, Mid-Levels, Hong Kong, +852 2559 5199
SWINDON BOOKS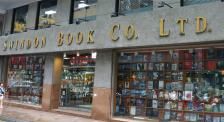 There's something truly wonderful about Swindon Books, and it's hard to put a finger on the reason. It may be because of its
well organised and easy to navigate aisles
, or the it's laid back vibe that invites you to flip through and read a few pages... The selection of books isn't huge, but it's carefully chosen and it spans many subjects. The ground floor has
English books
while the upstairs has English and
Chinese
.
Swindon Books, 13-15 Lock Rd, Tsim Sha Tsui, Hong Kong, +852 2366 8001
BOOKAZINE PRINCE'S BUILDING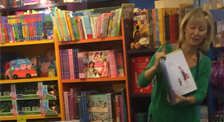 This bookstore chain needs little introduction, and if you're a parent and isn't familiar with their location in the Prince's Building, you really need to acquaint yourself. That particular branch does regular
story time, book launches
and all sorts of dandy events that inspire your child's love for reading. Visit their website and see what are their upcoming events.
Bookazine Prince's Building, Shop 309, Prince's Building, 10 Chater Rd, Central, Hong Kong, +852 2522 1785
BOOKSMART
If your Lord of the Rings trilogy is collecting dust and you're looking for
more updated reads
, trade them in to BooksMart in Sheung Wan, a shop tucked away on the upper floor of an office building, which carries
new and old books in English
. There are books on virtually anything, including
audio books
, parenting, young adult novels and more.
BooksMart, Rm 1604, 16/F, Western Centre, 48 Des Voeux Rd West, Sheung Wan, Hong Kong, +852 2630 5035
MIRTH HOME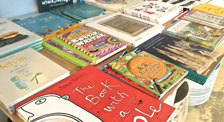 Located in an industrial building in Wong Chuk Hang, Mirth is a
one-stop shop
for all of your needs from cutesy outfits and accessories to home wares for the perfect childhood room. They also have a small but
well edited selection of books
, with a great selection of
beautifully illustrated books
that junior will love, and also other coffee table books for mom.
Mirth Home, 23 Wong Chuk Hang Rd, Wong Chuk Hang, Hong Kong, +852 2553 9811
BASHEER DESIGN BOOKS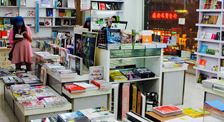 Bring your budding picassos to Basheer Books for a vast collection of
art and design books
. This is a bookstore for 'tweens and teens interested in architecture, design, art and comics, or mommas and pappas looking for interesting reads or just beautifully bound
coffee table books
to show off your highbrow interests. There's also nice
notebooks and stationary
to stock up on.
Basheer Design Books, 1/F, Flat A, Island Building 439-441 Hennessy Rd, Causeway Bay, Hong Kong, +852 2126 7533