Welcome to the Milk Mama Diaries Carnival (August). For this month, we write about the World Breastfeeding Week 2014 - Breastfeeding: A Winning Goal for Life and share how breastfeeding can help the Philippines achieve the 8 Millennium Development Goals developed by the government and the United Nations. Participants will share their thoughts, experiences, hopes and suggestions on the topic. Please scroll down to the end of the post to see the list of carnival entries.
To continue with Breastfeeding Month and an extra entry to the Milk Mommy Diaries, it is with great honor (and awe) to present my guest writer today...and she is none other than 2011 CNN Hero - Lola Robin Lim, CPM!
For those who live under a rock...
Lola Robin
(Ibu Robin) is an Filipino American woman who has helped thousands of poor Indonesian women have a healthy pregnancy and birth. She is certified midwife and founder of Yayasan Bumi Sehat (Healthy Mother Earth Foundation) health clinics, which offer free prenatal care, birthing services and medical aid to anyone who needs it. She and her team have been working since 2003 to combat Indonesia's high maternal and infant mortality rates, and the
Bumi Sehat birth centers
serve many at-risk mothers.
In 2011, she was awarded the 2011 CNN Hero of the Year award by CNN news network for helping thousands of low-income women in Indonesia with healthy pregnancy and birth services.
To know more about Ibu Robin, you can visit her website at
www.bumisehatfoundation.org
.
She will be giving her take in the discussion of UN MDGs that has an impact for both Mother-Babies. As per special request, a Tagalog/Filipino version of the essay is indicated after the English version.
To read about her other entry on
Infant Rights at Birth
.
***********************************************************************
Human Rights in Childbirth A Global Push
Robin Lim CPM written on June, 2014
At the moment I am back in Bali. Since the November Super Typhoon, I have been mostly in the Philippines. To be honest, it is good to be here at home with my family, sleeping in a real bed. The floor of the tent in the disaster zone is challenging for the body. However, it is also torture to be away from the great need of the mothers and babies, in the Philippine disaster area.
We have now received over 500 babies,
GENTLY
in the tent, with no running water, illumined by solar lights. We have proven that the model of kind, respectful, excellent MotherBaby~Friendly, Midwife-to-Mother care in childbirth... works. Even in the most devastated, high risk, low resource places on Earth: Post terrorist bombed Bali, Aceh, after the tsunami, Jyogja, Padang and Haiti, after the huge earthquakes, and now in the aftermath of Typhoon Haiyan, in the Philippines, natural gentle childbirth has proven to be the best way to preserve lives, with dignity.
Now Dr Niccolo Giovannini's, proposed research in Mangiagalli hospital, Milano, Italy, involving 7,000 babies in one year, has the potential to document the benefits of the Bumi Sehat model of care. (Dr. Niccolo was a volunteer at Bumi Sehat for 6 months, in Bali in 2012.) There is indeed already a mountain of evidence that proves; we
MUST
delay the clamping and cutting of our babies' umbilical cords. The study Dr. Niccolo will conduct, will put
ALL
doubt to rest. Niccolo came to Bumi Sehat Bali, just to touch in and see the project. What he saw moved him, so he stayed nearly 6 months. He says that he has never seen babies so bright, in any other birth setting. He observed how babies born gently, respecting and honoring the mother, with delayed umbilical cord clamping, would gaze wide-eyed at their mothers, crawl to her breast and feed.
The MotherBaby Placenta Trinity, when protected, is the best recipe to support healthy beginnings for all babies, especially in low-resource settings.
Even with a vast body of evidenced based medicine, to support the Gentle Model of reproductive healthcare, the abuse continues. I have seen it in hospitals in many countries, even today. Caring Midwives and Doctors and Nurses seem to become sheep, allowing anyone they perceive as being in a position of authority (hospital administrators, Departments of Health, even Insurance officers), to abuse our MothersBabies (even in writing I do not wish to separate them). Even worse, the Midwives, Nurses and Doctors who vowed to care, are the perpetrators of the policies of abuse. This is simply Stockholm Syndrome, in the Labor and Delivery rooms all over planet Earth. It must stop with us. It must stop now.
We can list the problems:
1) Bullying in Vaginal exams as I have seen them in Hospitals in 4 countries; a stranger, with
NO
permission, often not even aware of the woman's name, puts his or her hand into the woman's vagina, even forcefully, usually painfully. In any other setting, this is called
Rape
! In hospitals, it is medically sanctioned rape. Imagine if men were made to remove their pants and shoes, and lay down on an OB table, and in front of strangers, open their legs and place their feet in the stirrups.
The response of many many women is the same as when they are raped; a part of her leaves her body, she becomes numb and disengages, she simply goes away. In the context of becoming a Mother, this has a sad and terrible impact on the MotherBaby relationship. The so-called "
normal
" protocols surrounding hospital birth sabotage bonding and breastfeeding, they sabotage the future generation's capacity to trust and love.
2) The immediate clamping and cutting of babies' umbilical cords. We already know the impact. Clearly the Baby cannot protest. Yet, routinely, at nearly every birth on earth today, babies will be robbed of up to 1/3 of their own blood supply and stem cells. It's a wonder so many mothers persevere, and manage to bond and breastfeed their babies. This gives me hope that love heals all. Even so, the good outcomes for mothers and babies, in spite of the abuse, are
NO
excuse for continuing the abuse.
Here in Bali we have done a study, which proved that babies with delayed umbilical cord clamping and cutting did
NOT
have higher incidence of Jaundice. The story that was medically perpetrated went like this: if we don't immediately clamp and cut the babies' umbilical cords, they will have too much blood, and develop pathological jaundice." This story is
NOT
researched based. It is a medical Myth, designed to scare us all and undermine our innate instinct to protect our babies. Indeed, there is, according to Michel Odent, evidence that when the mother sees the clamps and scissors used to sever her baby's cord, her levels of oxytocin drop. The interruption of the Love Hormone, puts mothers at increased risk for postpartum hemorrhage! When we harm children right before the eyes of their own mothers, we have achieved a level of cruelty that is staggering, and life threatening. This is
NOT
Science, it is barbarism. We must consider that the under-reported numbers of women dying, in the prime of their lives, from complications of childbirth are still 800 per day, and wonder if protocols that undermine a new mother's flow of hormones, are at least a part of the cause.
If we talk about the "inconvenience" of just letting the Baby, Umbilical Cord, Placenta trinity be, for some time after birth, I feel disgust. How can we question that our hospital staff, the protocols and even the furniture (the birth "tables" are so narrow, there is no place to put the bowl with the placenta beside mother and baby)
MUST
Adapt to what is
BEST
for MotherBaby, not the reverse, which is the situation now.
For example, I witnessed a premature breech birth at the East Visayan Regional Medical Center, a few days ago. The
OBGYN
wanted to immediately clamp and cut the umbilical cord, so that baby could be resuscitated, even though in the Philippines, protocol is to
DELAY
. I stopped her from immediately severing the baby's cord, though only for two precious minutes, and we began resuscitation for the tiny neonate, there in the delivery room. However, the terrible narrow steel delivery table, with stirrups, makes it impossible to really care for the compromised infant immediately, on the spot, which is bad planning. Thankfully there are people developing neonatal resuscitation units, which roll right up to delivery table. (Our baby was fine, even though the
OBGYN
had already told the mother that her baby had no heartbeat, it was not true, she was quite easy to resuscitate, and even at just 30 weeks gestation, is doing well, with skin-to-skin and breast milk.) This brings me to my next point….
3) Archaic/cruel Obstetrical furniture. I say we need to throw out the steel table and stirrups as the "place to deliver." Except for a few obstetrical procedures, there is no need for these tables at all. These OB tables are demeaning. These high steel tables go against a woman's natural instinct to give birth close to the Mother Earth, in privacy. The very design is cruel and undermines a woman's natural flow of the hormone oxytocin, for oxytocin is shy and cannot bear being chilled. How can a woman's oxyticin flow, when she is placed up high, in full view of strangers, with her yoni and most of her naked body exposed? This set-up causes any human to feel cold and ashamed. When a woman's natural flow of oxyticin is sabotaged in childbirth, the process becomes much more difficult, labor is longer, and in third stage the risk of postpartum hemorrhage is greater. Once the baby is born in such a setting the table is narrow, so healthcare providers are reluctant to put the baby on mother, skin to skin, for fear the baby will fall. Also the table itself makes it difficult to delay the clamping and cutting of the babies' umbilical cords.
What I am saying is: "The
OB
tables women are forced to give birth on are cruel, demeaning, medically counter indicted as they sabotage the natural process of childbirth, increase the risks for mother, and make breastfeeding and bonding nearly impossible. They must be changed, totally eliminated in our healthcare facilities, if birth is to become universally more gentle.
4) Choices in Childbirth, a Human Right. World wide birthing women are being forced into bigger and bigger, less personal medical facilities to give birth. This is the emerging reproductive health agenda set in motion by the medical authorities, with no regard for the choices and rights of women.
Clearly gentle Midwifery-to-Mother care, in the setting of the Birthing Mother's choice, is the safest most humane option.
In a Recent Lancet Executive Summary, Midwifery to Mother care was defended:
http://www.thelancet.com/series/midwifery
The Executive Summary states: The essential needs of childbearing women in all countries, and of their babies and families, are the focus of this thought-provoking series of international studies on midwifery. Many of those needs are still not being met, decades after they have been recognized. New solutions are required. The Series provides a framework for quality maternal and newborn care (QMNC) that firmly places the needs of women and their newborn infants at its centre. It is based on a definition of midwifery that takes account of skills, attitudes and behaviours rather than specific professional roles. The findings of this Series support a shift from fragmented maternal and newborn care provision that is focused on identification and treatment of pathology to a whole-system approach that provides skilled care for all. "Midwifery is a vital solution to the challenges of providing high-quality maternal and newborn care for all women and newborn infants, in all countries"
Midwives can and do safely support women birthing in all settings, including, for healthy low-risk women, the choice to be supported to birth in the privacy and comfort of their own homes.
Regarding these 4 points: unethical vaginal exams, immediate or early clamping and cutting of babies' umbilical cords, cruel obstetrical furniture, and choices in childbirth; I believe that in less than 10 years time (IF we keep working for Human Rights in Childbirth) no healthcare provider or BirthKeeper will believe that these human rights infractions were common practice.
Perhaps we will live to see a day when no one would dare to immediately clamp and cut a child's cord, or do a vaginal exam without the woman's full consent and only when necessary. There will be a day when the OB tables, where women have been forced to give birth, will exist only in museums of sad history. Homebirth for healthy low risk MotherBabies will be a supported choice.
We must push for these Human Rights… There is a violent war being fought on the battlefield of our bodies, because medical institutions profit from technology in childbirth. If we are to reclaim our rights to gentle birth, we must fight on our own terms. I say, let us defend our rights in the Woman's way, our way, diligently, with the fierce strength of Mother lions defending our young, we must fight this battle with LOVE.
In Love,
Lola Robin Lim, Grandmother and Professional Midwife
Advisory board for Human Rights in Childbirth (
http://humanrightsinchildbirth.com/advisory-board/
)
*********Tagalog/Filipino Version**************
Karapatang Pantao sa Panganganak, Pandaigdigang Kamalayan
Robin Lim CPM
June, 2014
Sa kasalukuyan ako ay nandito uli sa Bali. Simula noong malakas na bagyo ng Nobyembre, madalas akong nasa Pilipinas. Sa katotohanan, ang sarap sa pakiramdam na nandito ako sa aming tahanan sa piling ng aking pamilya, natutulog sa totoong kama. Ang lapag sa tolda ng disaster zone ay masakit sa katawan. Gayunpaman, masakit sa kalooban na napapalayo ako sa mga ina at sanggol sa mga nasalantang lugar sa Pilipinas na lubos na nangangailangan.
MARAHAN kaming tumanggap nang mahigit na 500 sanggol sa aming tolda na walang dumadaloy na malinis na tubig at napapailawan lamang ng solar lights. Napatunayan naming ang modelo ng mahabagin, magalang, mahusay na Mother-Baby Friendly Midwife-to-Mother na pag-aaruga ay… gumagana. Kahit sa pinakamahabagin, pinakamapanganib, pinakapayak na lugar sa mundo: ang mga kinahinatnan matapos ang pambobomba ng mga terorista sa Bali, Aceh, tsunami sa Jyogja, Padang at Haiti, matapos ang malalakas na lindol at ngayon ang pinsalang dulot ng Bagyong Haiyan sa Pilipinas, napatunayan na ang natural at marahang panganganak ay ang pinakamabuting paraan para pangalagaan at bigyan dignidad ang buhay ng mga sanggol at ina.
May pinapanukalang pag-aaral si Dr. Niccolo Giovannini sa Mangiagalli Hospital, Milano, Italy na kabibilangan ng 7,000 na sanggol sa isang taon. Ito ay may posibilidad na mailathala ang benepisyo ng Bumi Sehat Model of Care. Maraming-marami na ang ebidensya na nagpapatunay na DAPAT ipagpaliban ang paghugpong at pagputol ng umblical cord ng sanggol. Ang pananaliksik na gagawin ni Dr. Niccolo ay magpapasawalang bahala sa LAHAT ng mga pagdududa dito. Pumunta si Dr. Niccolo sa Bumi Sehat Bali para lang makita ang proyekto noong 2012. Ang kanyang namasdan ay nagpaantig ng kanyang puso kaya't nahimok siyang manatili ng halos anim na buwan. Ayon sa kanya, doon lang siya nakakita ng mga bagong silang na sanggol na walang kasingsigla. Napagmasdan din niya na ang mga sanggol na pinanganak nang may marahang pag-aaruga, nang may paggalang at parangal sa ina, na pinagpaliban ang pagsugpong ng kordon, ay mulat na mulat na titingin sa kanilang ina at gagapang papunta sa dibdib para sumuso.
Ang pagkalinga sa "MotherBabyPlacenta Trinity" ay ang pinakamagandang paraan upang itaguyod ang mabuting panimula para sa mga sanggol lalo na ang mga nasa payak lugar.
Sa kabila ng malawak na kaalaman sa medisina na sumusuporta sa Gentle Model ng reproductive healthcare, nananaig ang pang-aabuso. Nakikita ko ito sa mga ospital sa maraming bansa hanggang ngayon. Ang mga komadrona, doktor at nars ay tila nagiging tupa at pinapahintulutan ang mga nasa posisyon (administrator ng ospital, Department of Health at kahit ang opisyal ng mga Insurance) para abusuhin ang mga InaSanggol (kahit sa pagsulat ay hindi ko magawang paghiwalayin sila). Ang lalong malubha, ang mga komadrona, nars at doktor na nanumpang mangalaga ay nangunguna sa pang-aabuso. Ito ay tila "Stockholm Syndrome" sa mga paanakan sa buong mundo. Ito ay dapat matigil sa atin. Ito ay dapat matigil ngayon din.
Ililista ko ang mga suliranin:
1)
Pang-aabuso sa pagsusuri sa ari ng babae.
Nakita ko ito sa mga ospital sa apat na bansa: isang taong hindi kakilala, na WALANG pahintulot at madalas ni pangalan ng nanay ay hindi alam, ay ilalagay ang kanyang kamay sa ari ng nanay ng papilit at madalas ay nakakasakit. Sa ibang pagkakataon, ito ay tinatawag na
Panggagahasa
! Sa mga ospital, ito ay panggagahasa na may pahintulot ng medisina. Ipagpalagay kung ang mga kalalakihan ay pinagawang tanggalin ang kanilang pantalon at sapatos, at pinahiga sa harap ng mga hindi kakilalang tao, pinabuka ang mga binti at pinalagay ang mga paa sa tungtungan.
Ang tugon dito ng maraming kababaihan ay tulad nang nagahasa, isang bahagi ng kanyang sarili ay nawawala. Siya ay nagiging manhid. Ang kalooban nya ay lumalayo. Sa konteksto ng pagiging ina, ito ay may malungkot at nakakatakot na epekto sa ugnayan ng InaSanggol. Ang sinasabing "normal" na pamamaraan ng mga ospital sa pagpapaanak ay pinapahamak ang magandang pagsasama at pagpapasuso ng InaSanggol. Pinapahamak nila ang kapasidad ng susunod na henerasyon para magtiwala at magmahal.
2)
Agarang pagsugpong at pagputol ng umblical cord ng Sanggol.
Alam na natin ang epekto nito. Malinaw na hindi makalaban ang Sanggol. Subalit, regular at halos sa bawat pagsilang sa mundo ngayon, ang Sanggol ay nananakawan ng hanggang ikatlo ng kanilang suplay na dugo at
stem cells
. Kamangha-mangha na maraming ina ang nagsusumikap at matagumpay na napapasuso ang kanilang anak. Ito ay nagbibigay sa akin ng pag-asa na hinihilom ng pag-ibig ang lahat. Gayunpaman, ang mabuting kinahantungan ng InaSanggol sa kabila ng mga pang-aabuso ay HINDI dahilan para ipagpatuloy ang pang-aabuso.
May ginawa kaming pag-aaral dito sa Bali na nagpatunay na ang mga Sanggol na pinagpaliban ang pagsugpong at pagputol ng kordon ay HINDI nagkaroon ng mataas na insidente ng paninilaw ng balat.
Ang paniniwala na pinalaganap sa medisina ay ito: kapag hindi agad sinugpong at pinutol ang kordon ng sanggol, magkakaroon sila ng masyadong maraming dugo at magkakaroon ng patolohikal na paninilaw ng balat. Ang paniniwalang ito ay HINDI base sa masusi at siyentipikong pag-aaral. Ito ay isang haka-haka lamang na ginawa para manakot at maliitin ang ating likas na kakayahan upang protektahan ang ating mga sanggol. Sa katunayan, ayon kay Michel Odent, mayroong patunay na kapag nakita ng isang ina ang panumpong at gunting para putulin ang kordon ng kanyang sanggol ay bumabagsak ang antas ng oxytocin sa kanyang katawan. Ang pagkakaantala sa love hormone ay nilalagay ang ina sa masmataas na posibilidad ng matinding pagdurugo pagkatapos manganak! Kapag sasaktan natin ang mga bata sa harap mismo ng kanilang ina, matatamo natin ang antas ng kalupitan na napakatindi at nakakapeligro sa buhay. HINDI ito siyensya. Ito ay barbarismo. Ating bigyan ng karapatang pansin ang dami ng mga babaeng namamatay sa rurok ng kanilang buhay dahil sa komplikasyon sa panganganak ay nasa 800 kada araw. Mapapaisip ka kung ang mga pamamaraan na minamaliit ang daloy ng hormon sa isang bagong ina ay kasama sa dahilan ng mga kamatayang ito.
Nasusuklam ako tuwing pag-uusapan ang "abala" na dulot ng pagpaparaya ng ilang saglit sa kordon ng sanggol at placenta trinity pagkasilang ng sanggol. Bakit ang mga kawan ng ospital, ang pamamaraang gamit at kahit ang kasangkapan (ang "mesa" kung saan nanganganak ay masyadong makitid, walang paglalagyan ng inunan sa tabi ng ina at sanggol) ang DAPAT makibagay sa kung anong PINAKAMABUTI para sa InaSanggol at hindi ang kabaligtaran na siyang nangyayari ngayon?
Halimbawa, nasaksihan ko ang pagsilang ng isang premature breech sa East Visayan Regional Medical Center kamakailan lang. Ang OBGYN ay gusto agad pagsumpungin at putulin ang kordon para magkamalay tao ang sanggol, kahit na ang protokol sa Pilipinas ay IPAGPALIBAN. Tinigil ko sya sa pagputol agad ng kordon. Nagawa ko lang ito nang dalawang minuto at saka namin sinimulan ang pagbuhay sa napakaliit na bagong silang na sanggol. Gayunpaman, ang teribleng makitid na mesang paanakan na may tuntungan ay hindi akma para bigyan ng agaran at karapatang pag-aalaga ang bagong silang. Ako ay nagpapasalamat na mayroong mga taong nagsusulong at gumagawa na ng neonatal resuscitation units na nailalagay sa tabi ng mesang paananakan. (Ang sanggol ay mabuti naman kahit na sinabi ng OBGYN sa ina na walang pulso ang bata. Hindi ito totoo. Sa katunayan, madaling napanumbalik ang malay tao ng sanggol kahit na 30 linggo lamang ito sa sinapupunan. Ang sanggol ay mahusay ang kalagayan gawa ng skin-to-skin at ng gatas ng ina.) Pinasisimulan nito ang susunod kong punto…
3)
Sinauna o walang habag na mga kasangkapan sa panganganak.
Sinasabi ko, kailangan nang itapon ang bakal na mesa bilang lugar para bigyan silang ang isang sanggol. Maliban sa ilang gawaing obstetrikal, hindi ito kinakailangan. Ang mga ito ay walang pakundangan sa mga ina. Ang mga matataas na mesang bakal ay hindi naaayon sa natural at likas na simbuyo ng isang ina upang magluwal ng sanggol sa pribadong lugar at malapit sa Inang Kalikasan. Ang kanyang disenyo ay walang habag at pinapasawalang bahala ang natural na daloy ng
oxytocin
dahil ang
oxytocin
ay mahiyain at hindi kaya ang lamig. Papaanong dadaloy ang
oxytocin
kung ang ina ay nakaratay ng napakataas at kitang-kita ng mga hindi kakilala ang kanya kaluluwa at halos hubad na katawan? Ang kalagayang ito ay nagpapahiya sa kahit sinong tao. Kapag ang natural na daloy ng
oxytocin
ay nasabotahe sa panganganak, ang proseso ng pagluwal ng sanggol ay tumatagal at masnagiging mahirap, at sa pangatlong yugto ay tumataas ang posibilidad ng matinding pagdurugo matapos ang panganganak. Kapag ang sanggol ay maipanganak sa makitid na mesa, ang mga tagapangalaga ay may alinlangang ipatong ang sanggol sa ina para sa
skin-to-skin
dahil sa takot na mahulog ito. Ang naturang mesa ay balakid din para maisagawa ang pagpapaliban ng pagsugpong at pagputol ng kordon ng sanggol.
Gusto ko ipahiwatig na ang mga mesang ito kung saan pilit na pinapagamit sa pagluwal ng sanggol ay walang kahabag-habag at hindi naaayon sapagkat sinasabotahe nito ang natural na proseso ng pagsilang ng isang sanggol, nagbibigay nang masmataas na posibilidad na kapahamakan sa ina, at nagpapahirap sa ugnayan at pagpapasuso ng ina sa kanyang anak. Ito ay dapat mabago at mawala nang tuluyan sa lahat ng pasilidad na nangangalaga sa kalusugan kung gagawing marahan ang pagnganganak.
4)
Karapatang pantao ang makapili ng paraan ng panganganak.
Sa lahat ng dako ng mundo, ang mga nagdadalang-taong ina ay pinipilit na manganak sa malalaki at tila pampublikong lugar. Ang walang paubaya sa karapatan ng kababaihan at sa kanyang kakayahan pumili ang umuusbong na kalakaran sa
reproductive health
sa pangunguna ng mga awtoridad sa medisina.
Malinaw na sa mga pagpipilian ng nagdadalang-taong ina, ang marahang pangangalaga ng komadrona sa ina ang pinakaligtas at makataong paraan.
Ayon dito: Ang pangunahing pangangailangan ng mga nagdadalang-tao sa lahat ng bansa, ng kanilang sanggol at pamilya, ay ang paksa sa serye ng mga pag-aaral sa midwifery. Matapos ang isang dekada mula nang makilanlan ang mga pangangailangang ito, marami pa rin ang hindi naibibigay sa mga kinaukulan. Bagong sulosyon ang kailangan. Ang Serye ng pag-aaral sumesentro sa pangangailangan ng ina at sanggol ay nagbibigay ng balangkas para sa kalidad ng pangangalaga sa ina at bagong silang (quality maternal and newborn care). Ito ay batay sa kahulugan ng midwifery na sumasaklaw sa kakayanan, kilos at ugali sa halip na propesyonal na tungkulin. Ang Seryeng ito ay sumusuporta sa pagbaling mula sa probisyong nakatuon sa pangingilala at paglapat ng lunas ng patolohiya kaya't nagkukulang ang pangangalaga sa ina at bagong silang, patungo sa tunay na makabagong pamamaraan na nagbibigay ng dalubhasang pangangalaga sa lahat. "Ang midwifery ay isang importanteng solusyon sa mga hamon na kinakaharap sa pagbigay ng mataas na kalidad na pangangalaga sa ina at sanggol para sa lahat ng kababaihan, bagong silang, sa lahat ng bansa."
Ang mga komadrona ay may sapat na kakayahan upang suportahan at tulungan ang isang malusog at low-risk na ina na manganak ng ligtas sa kahit saang lugar na piliin niya at kahit sa kaniyang sariling tahanan.
Tungkol sa apat na puntong aking nabanggit: pang-aabuso sa pagsusuri ng ari ng babae, agarang pagsugpong at pagputol ng kordon ng sanggol, walang kahabag-habag na mga kasangkapan sa panganganak, at kakayahang makapili ng paraan ng panganganak; naniniwala ako na hindi aabot ng sampung taon (kung masigasig nating itataguyod ang Karapatang Pantao sa Panganganak), walang tagapangalaga sa kalusugan ang maniniwalang ang apat na ito ay nakaugalian gawin.
Marahil balang araw, makikita natin na walang magtatangkang pagsugpungin at putulin agad ang kordon ng isang sanggol, o kaya'y mag-eksamina ng ari ng ina ng walang pahintulot nya at kung kailangan lamang. Darating din ang araw na ang mga metal na mesa na paanakan ay magiging bahagi na lamang ng mga museong naglalaman ng malungkot na kasaysayan. Ang desisyon ng mga malusog na InaSanggol na manganak sa sariling tahanan ay balang araw magiging suportado din.
Kailangan nating itaguyod ang mga karapatang pantaong ito! Mayroong marahas na labanang nagaganap sa ating mga katawan dahil ang mga institusyon sa pangangalaga ay nagpapayaman sa teknolohiya ng panganganak. Kung gusto nating mabawi ang ating karapatan sa marahang panganganak, kailangan nating lumaban sa sarili nating paraan. Ipaglaban natin ang ating karapatan gamit ang pamamaraan ng kababaihan. Labanan natin ito gamit ang PAGMAMAHAL.
Nagmamahal, Robin Lim, Lola at Propesyonal na Komadrona
Advisory Board for Human Rights in Childbirth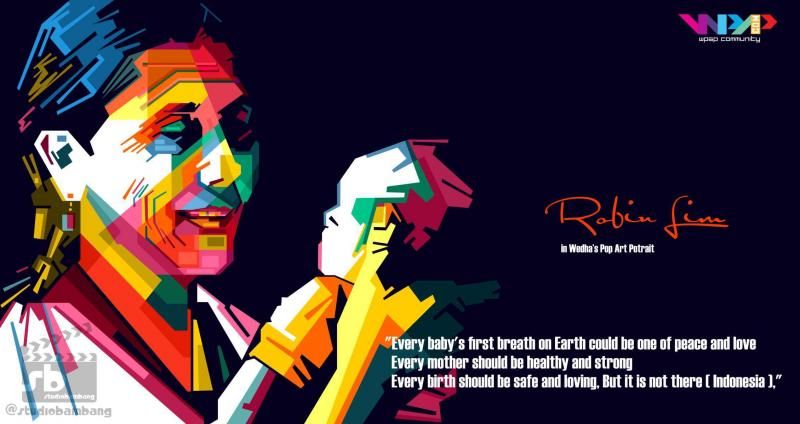 Here are many thoughts and reasons why we should all advocate for mothers to breastfeed for the first 1,000 days of life #BF1st1000days